Discover the Holy Grail: Best Shampoo for Fine Hair
Sep 06, 2023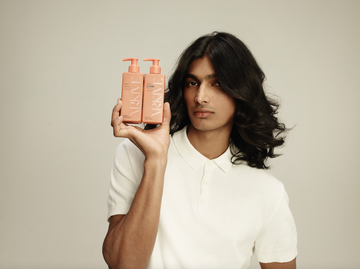 Welcome back to The ARKIVEs by ARKIVE Headcare, your go-to source for hair, hacks and Headcare advice for you, yours & theirs! 
If you've got fine hair, you've come to the right place. In this blog post, we're diving deep into the world of fine hair. We'll be exploring everything you need to know about caring for and styling your delicate tresses. Consider this your ultimate fine hair care and style guide! 
Let's get started…
What is Fine Hair?
Before we delve into the care and styling tips, let's get back to basics and understand what fine hair actually is.
Fine hair refers to the thickness or diameter of each individual strand. Unlike coarse or thick hair, fine hair has a smaller diameter, which can give it a delicate and lightweight appearance. Fine hair can sometimes be mistaken for thin hair… but they are not the same, as we'll explore a little later.
Fine Hair vs Thin Hair: What's The Difference?
It's essential to differentiate between fine hair and thin hair, as they have distinct characteristics. As we've established, fine hair is about the thickness of each strand, but thin hair refers to the number of strands per square inch of the scalp.
To really add complexity to the situation, you can have fine hair that is dense and abundant, or fine hair that is less dense, and more thin. Understanding this difference will help you choose the right products and styles that suit your hair type.
Washing Fine Hair
Caring for fine hair starts with a proper wash routine. It's crucial to use the right products that add volume and enhance the natural beauty of your hair without weighing it down. Before you frantically Google 'The best shampoo for fine hair',  let's explore some of the best shampoos, conditioners, and hair masks that are *perfect* for your fine hair.
Best Shampoos for Fine Hair
When selecting a shampoo for fine hair, look for lightweight formulas that won't weigh down your locks. Choose shampoos with volumising properties to add body and lift to your hair. We might be biassed but an excellent option is the ARKIVE ALL DAY EXTRA Shampoo which is specially formulated to add volume and thickness to fine hair. Its gentle yet effective formula cleanses your hair without stripping it of essential moisture, leaving your locks looking full and vibrant. 
Best Conditioners for Fine Hair
For fine hair, opt for lightweight conditioners that aren't bulked out with heavy waxes, these will provide necessary hydration without leaving residue. The ARKIVE ALL DAY EXTRA Conditioner is the perfect match for fine hair, as it nourishes and moisturises without weighing your hair down or leaving a thick residue after washing. Infused with natural ingredients like Baobab Oil (if you missed our previous blog post all about this haircare miracle catchup here) and Shea Butter, this conditioner works wonders to enhance the texture and overall manageability of your fine hair.
Best Hair Masks for Fine Hair
Much like it's sister Dry Hair, Fine hair still needs a little TLC.  Treat your fine hair to a restorative hair mask once a week to keep your strands in tip-top condition. Look for masks infused with ingredients like Baobab Oil, which provide deep hydration and nourishment to your delicate strands. The ARKIVE FUTURE YOUTH TREATMENT MASK is a must-try for fine hair, as it nourishes and strengthens your tresses, leaving them soft and silky. The rich formula penetrates deeply into the hair shaft, repairing damage and restoring shine.
Styling Fine Hair
The other half of the perfect fine hair management strategy is selecting the right styling products. Styling fine hair requires a gentle touch and the right techniques to add volume and dimension without causing damage…
How to Style Fine Hair & Add Volume 
When styling fine hair, use lightweight styling products that don't add weight. Consider using the ARKIVE THE BODY MOUSSE to add volume and hold to your hair without any heavy residue. Shake well before use. Apply to wet hair. Dispense a plum sized amount for short hair, or a tangerine sized amount for longer hair into the palm of the hand or a comb and then pull through the hair from root to tip, ensuring each strand is covered. Scrunch into the hair and style as normal. Whether you're blow-drying (try upside down for more volume at the roots) or air-drying your hair, the mousse will provide long-lasting volume and fullness.
Best Styling Products for Fine Hair
For fine hair, opt for products like volumizing sprays, root lifters, and texture sprays. THE NEW FORM BLOW DRY SPRAY is an absolute winner, as it adds texture and definition to your fine locks, making styling a breeze. Not only is it a beauty award WINNER! 'Blow Dry Booster' Cosmopolitan Beauty Awards 2022, this lightweight formula is our heavy weight in styling. With a flexible and accumulative hold that is perfect for all hairstyles. Apply to freshly washed damp hair. Section hair and spray liberally from root to tip. Style as desired.
The bottom line…
Fine hair requires special care and attention to enhance its natural beauty and achieve stunning styles unique to you. With the right products and styling techniques, you can make the most of your delicate locks. Explore ARKIVE Headcare's range of fine hair-friendly products and embark on a haircare journey that celebrates the unique beauty of your fine hair
Until next time -