Meet Your Multifunctional Headcare Routine
Oct 11, 2023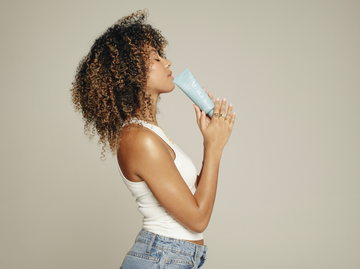 Welcome back to The ARKIVEs by ARKIVE Headcare, your ultimate destination for all things hair, hacks and Headcare for you, yours & theirs! 
When it comes to curls, coils and textured hair, achieving the perfect look often involves an array of products, each promising to deliver a specific benefit. But what if we told you there's one product that can do it all? Meet THE GOOD CALMER CUSHIONING MOISTURE CREAM from Arkive, your secret to a simplified, yet stunning, curly hair routine.
Common Curly-Hair Complaints
Managing natural curls can come with a set of common challenges. Firstly, there's the ongoing battle against frizz, which seems to have a mind of its own, especially in humid conditions. Finding the right products and techniques to keep frizz at bay is a top priority. Then, there's the quest for consistent curl definition and shape. Natural curls tend to have their unique patterns, which can result in uneven texture and shape. If you're always on the lookout for styling methods and products that can create a uniform and well-defined look without making your hair feel stiff - we see you! 
Finally, there's the matter of moisture balance. Curly hair often leans towards the dry side because those natural oils produced at the scalp have trouble navigating the twists and turns of the hair shaft. Striking the perfect moisture balance can be a tricky task, as too much can weigh curls down, while too little can lead to dryness and breakage. Enter: THE GOOD CALMER.
What Is THE GOOD CALMER?
THE GOOD CALMER is more than just a hair product; it's your ticket to fabulous, refreshed curls in one easy step. This multifunctional marvel is designed to provide deep hydration and protection while smoothing and calming each strand. Whether your hair is wet or dry, THE GOOD CALMER leaves you with glossy, bouncy curls.
What makes THE GOOD CALMER truly stand out are its unique blend of carefully selected ingredients, each with its own set of benefits for your curls.
Baobab Protein: This superhero ingredient is all about strength and resilience. It boosts hair's durability, increases strength, and enhances elasticity. So, say goodbye to fragile, prone-to-breakage curls.
Baobab Oil: When it comes to moisture, Baobab Oil is the champion. It infuses your curls with much-needed hydration, leaving them soft, shiny, and beautifully nourished. No more dry, thirsty locks.
Vitamin E: Known for its hydrating properties, Vitamin E takes care of dry and brittle hair, leaving it supple and lustrous.
Sunflower Extract: This natural wonder prevents water loss from your hair, helping to keep it hydrated without weighing it down. It's the secret to that lightweight, frizz-free finish.
Together, these ingredients make THE GOOD CALMER *the* product for hydration, strength, and definition, ensuring your curls always look their best.
How To Use THE GOOD CALMER For Curly Hair
After washing and conditioning your hair, simply apply a grape-sized amount to damp hair, working it from root to tip. Apply more depending on what feels right for your hair length and thickness. Scrunch your hair upwards to help those beautiful curls take shape. Then, allow to air-dry or diffuse for a style that embraces your unique texture and pattern. It's that simple!
THE GOOD CALMER*: Not Just for Curls
While THE GOOD CALMER is remarkable for its curly hair benefits, its versatility doesn't stop there. Whether you have curls or not, you can still enjoy the multifunctional magic of this Headcare gem...
With any hair type, if you dream of achieving a sleek, blow-dried look, THE GOOD CALMER has got you covered. After washing and conditioning your hair, apply to damp hair, working it evenly from root to tip. Comb through your hair for an even distribution, and then style as desired using a blow-dry brush or a hairdryer. If you're looking to achieve the sleek bun trend then simply apply to dry hair and use a comb or smoothing brush to set it in place. 
Whether your hair is straight, wavy, or curly, THE GOOD CALMER proves to be your versatile companion for achieving the hair of your dreams. It's the go-to product for effortlessly chic, manageable hair, no matter your hair type!
The bottom line…
Achieving fabulous curly hair doesn't have to be complicated. With THE GOOD CALMER, you can simplify your routine while enhancing your natural beauty. It's time to embrace your curls and make THE GOOD CALMER your curly hair's new BFF.
Ready to experience the wonders of THE GOOD CALMER for yourself? Visit the Arkive Headcare website today, and embrace gorgeous, refreshed curly hair that turns heads wherever you go. 
Your curls deserve it!
Until next time -