The Complete Guide to Hair Primer
Nov 02, 2023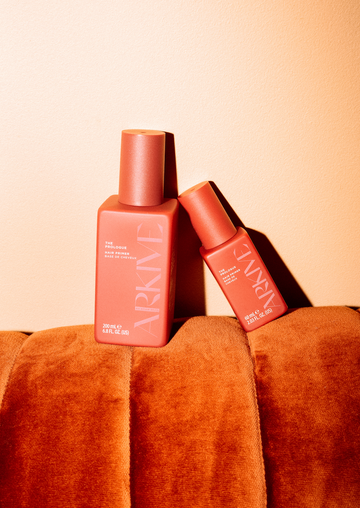 Welcome back to The ARKIVEs by ARKIVE Headcare, your go-to destination for all things hair, hacks and Headcare for you, yours & theirs! 
Haircare is more than just shampoo and conditioner, with so many products out there to treat, protect and style your hair these days. With various products designed to help you achieve your dream hair, you might wonder if adding another step to your routine is really worth it? The answer might just be 'yes' when it comes to using a hair primer. In this comprehensive guide, we'll demystifylve into the world of hair primer, explaining what it is, what it does, who can benefit from it, and how to incorporate it into your Headcare routine effectively. Discover the secrets to flawless, salon-worthy locks with ARKIVE Headcare.
Let's dive in…
What is Hair Primer?
Hair primer is a multifunctional hair product that provides a solid foundation for styling. Much like a makeup primer preps your skin for cosmetics, hair primer preps your hair for styling products. It's a lightweight, leave-in formula designed to address various hair concerns and create the ideal canvas for the look you want to achieve.
What Does Hair Primer Do?
Incorporating a hair primer into your Headcare routine offers a range of benefits:
Heat Protection: It shields your hair from the damaging effects of heat styling tools like hairdryers, straighteners, and curling irons.
Frizz Control: Hair primer helps to control frizz and adds a layer of protection against humidity.
Detangling: It makes your hair more manageable, and reduces the chances of breakage when combing or brushing.
Enhanced Styling: It provides a smoother surface for easier styling and longer-lasting results.
Is Hair Primer Best for Thick or Thin Hair?
The beauty of hair primer is that it's versatile and suitable for all hair types. Whether you have fine, thin hair or thick, coarse locks, a hair primer can work for you. The key is to choose the right primer that aligns with your hair's specific needs.
Introducing one of our hair protection heroes: THE PROLOGUE HAIR PRIMER. This is the key to unlocking your hair's full potential. The heat-activated formula works like a shield, enveloping and protecting your delicate locks before styling. Whether you're aiming for sleek straightness or bouncy curls, this primer prepares your hair to take on any shape or size with ease. What's the secret behind its magic? Two powerhouse ingredients: Baobab Oil for scalp moisture and unparalleled hair shine, and Baobab Protein to fortify your strands, enhancing their resilience, strength, and elasticity. With THE PROLOGUE HAIR PRIMER, every day is a great hair day.
How to Use The PROLOGUE HAIR PRIMER 
Using our hair primer is simple and adds minimal time to your daily routine. Here's a step-by-step guide to using it effectively:
Wash Your Hair: Begin with clean, freshly washed hair. Use your regular shampoo and conditioner. We recommend THE ALL DAY EVERYDAY range for gentle yet effective cleansing. 
Towel Dry: Gently pat your hair with a towel to remove excess moisture. It should be damp but not dripping wet.
Apply the Primer: Section hair and spray evenly from root to tip, concentrating on mid-lengths and ends.
Avoid too much product in the Roots: This can make your hair look greasy.
Use heat!  Use a hairdryer to activate the protection and style your hair as usual. You'll notice that it's more manageable, less frizzy and looks healthier.
 How Can I Use THE PROLOGUE HAIR PRIMER With Other Products?
Ready for an ARKIVE pro tipPRO TIP? Using a Hair primer works well in combination with other Headcare products. Here are a few product combinations that we love depending on your Headcare goals:
Hair Primer + Styling Cream: If you're looking for a sleek, polished look, combine hair primer with a styling cream like our unique Good Calmer Cushioning Moisture Cream. It provides deep hydration and protection whilst smoothing and calming each strand for a lightweight, frizz-free finish.  Apply the primer first to protect your hair from heat and add a smooth base. Follow up with the GOOD CALMER for control and hold.
Hair Primer + OilSerum: For those seeking extra shine and frizz control, pair a hair primer with an oil or serum. Reach for THE GOOD HABIT HYBRID OIL, a holy grail combination of Baobab and Jojoba oils to give lightweight moisture and shine to the hair, nourishing your whole head. .Apply the primer to damp hair and follow with a few drops of THE GOOD HABIT to lock in the moisture and add a beautiful shine.
Hair Primer + Volumizing Spray: If you're after volume, use a volumizing spray alongside your hair primer. Our product of choice? THE NEW FORM BLOW DRY SPRAY! This lightweight formula is our heavy weight in styling. With a flexible and accumulative hold that is perfect for adding dimension to all hairstyles. This blow dry spray will give your hair long-lasting form without weighing it down. Using a primer ensures your hair is protected and smooth, while THE NEW FORM adds body and texture.
The bottom line…
Hair primer is a game-changer in the world of haircare. It's a versatile product that offers various benefits, including heat protection, frizz control, and enhanced styling. The good news is that it works for all hair types. Incorporating it into your daily routine is easy, and it pairs well with other hair products to help you achieve your desired look. Whether you have fine or thick hair, the right hair primer can make a significant difference in the health and appearance of your locks. Consider adding this essential step to your Headcare routine and unleash the full potential of your tresses.
For optimal results and to explore our range of Headcare essentials, including the ARKIVE THE PROLOGUE HAIR PRIMER, visit ARKIVE Headcare.
Your journey to flawless hair starts with ARKIVE.
Until next time,