Does your current mousse give you the ick?
Jul 17, 2023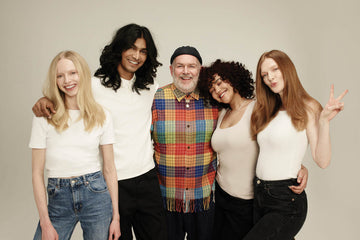 We don't know who needs to hear this but *NEWSFLASH* hair mousse is back. 
Mousse has always been a tricky beauty product to adopt and we can't blame you if the current (or past) mousse in your life gave you the icck.
You'd be right in thinking that sometimes they're a bit wild and uncontrollable, hard to apply, sticky(!) and confusing especially when trying to know exactly when and what they're meant to be used for but (thankfully) a revolution has arrived. 
What is so special about our mousse - we hear you cry? 
The answer? It combines a number of seriously effective styling benefits into one single step with a super foamy formula. In short, incorporating a mousse into your Headcare routine will provide your hair with hold, style memory, lift and bounce.  
You know…
All the good stuff! 
Out of all of the product formulations out there, mousse is actually the easiest product to use and the most versatile once you have the roadmap. We know we shouldn't have favourites but, mousse is one of our front runner Headcare products and we truly think this could be our best innovation yet (just don't tell the others). 
Get ready to meet the newest kid-on-the-Headcare-block: THE BODY HYBRID MOUSSE.
This feather-light, whipped cream mousse gives a flexible and long-lasting hold to any style that you can actually run your fingers through along with a megawatt, multi-dimensional gloss and shine.
What's not to love?!  
PRO Tip: The How-to-use Mousse Roadmap
Enhancing natural waves and boosting your bouncy blow-dry to perfection is now effortless - without any stickiness giving you the ick. 
To achieve the style you've always wanted, shake well before use and apply THE BODY to wet hair straight from the shower. Dispense a plum (for short hair) or tangerine (for long lengths) sized amount into either the palm, or direct to a comb, and then pull through the hair from root to tip. 
Once every strand is covered, simply scrunch into the hair and style as normal or, if you've been lusting over the TikTok bun trend like we have (*raises hand*) then gather the hair back into a ponytail and use THE BODY to achieve the signature slicked back look.
It really is as simple as that. 
What's your favourite grab-and-go product for when you're short on time but big on results? Let us know in the comments. 
Until next time -
ARKIVE.